The nDureADDS is designed for the
automatic delivery of diesel additive.
It's a brain in a box that 'detects' when to ADD. diesel additive. That's why we call it INTELLIGENT!
nDureADDS INTELLIGENT! determines
howmuch fuel is added at a fuel stop and ADD
the appropriate amount of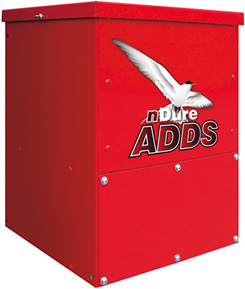 nDureADDS can be mounted to individual
tractor trucks, straight trucks, waste management and concrete trucks, transit buses and off-road construction and mining equipment. Installation
is simple and achieved with basic hand tools.
Once installed and INTELLIGENT! controller selections are entered including Number of
Fuel Tanks, Tank Shape, Tank Diameter or
Depth, Tank, Length and Additive Ratio, the operation is totally hands free - no on/off switches,
no numbers to enter, no calculations to perform.